Tooniforms: 8 Fun and Festive Scrub Prints
Even if you haven't worn them yourself, you've probably seen your fellow nurses and other coworkers sporting printed scrub tops featuring beloved cartoon characters. While these uniforms feature an impressive array of animated franchises, they're all from the same line: Tooniforms.
Tooniforms scrubs are made by Cherokee Uniforms, which has been making medical uniforms since 1977. Cherokee brings its more than 40 years of experience to every medical uniform it designs and manufactures, including the Tooniforms line. Their fabrics combine comfort, durability, softness, stretch, moisture wicking and easy care to create your go-to scrubs. Their designs bring a fashion-forward sensibility to ready-to-wear uniforms, and look great right out of the package.
In addition to the Tooniforms line, Cherokee also offers many other exciting print designs, from florals to abstracts. Sometimes, the company even works with artists and guest designers to offer unique prints based on their original artwork for a truly unique look.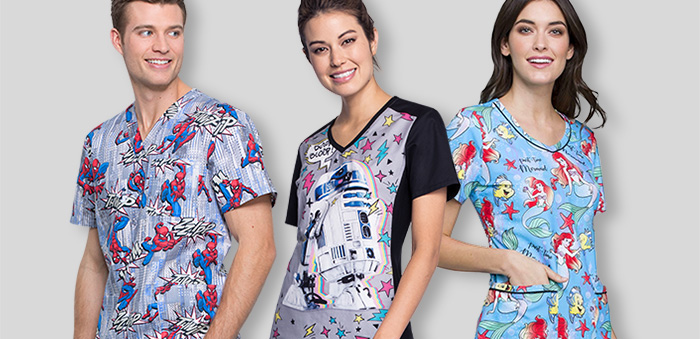 But enough about Cherokee. Here are our eight favorite Tooniforms designs you should definitely check out:
Disney Princesses
The princess franchises are one of the main pillars of Disney's animated empire, so of course we had to lead with them. There are currently 11 official Disney princesses, so you never know who might make an appearance on a Tooniforms top. Make these characters a part of your world—uh, we meant your scrub collection.
Superheros
If you've got princess Tooniforms, then of course you have to have superhero Tooniforms as well. Tooniforms works with both Marvel Comics and DC Comics to create uniforms featuring the top superhero characters from both companies. Declare your allegiance for one side of the rivalry, or play the peacemaker and switch off scrubs from both sides.
Star Wars
A long time ago in a galaxy far, far away...we're just kidding! Right now, in this galaxy, you can buy many popular Tooniforms prints based on the popular sci-fi franchise. Both human and robot characters from the various trilogies and spin-offs are available–and the designs constantly refresh to incorporate the newest Star Wars releases.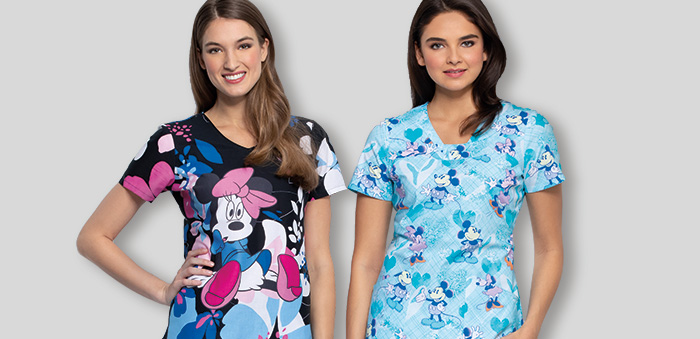 Disney Classics
Contrary to popular belief, not every Disney character is a princess or superhero, and plenty of Tooniforms prints feature characters from other oldie-but-goodie properties such as Lilo & Stitch and The Jungle Book. Designs are constantly refreshed and rotated out, so if you see Tooniforms for one of your favorite movies, grab 'em before they're gone!
New Classics
Although it can sometimes feel like it, Disney doesn't have a monopoly on the animated media market. Many popular franchises have been released by other studios in the recent past, including the Trolls movie (Dreamworks) and the Despicable Me franchise (Universal Pictures). Tooniforms also partners with these studios to brings their characters to life in their own scrub print tops.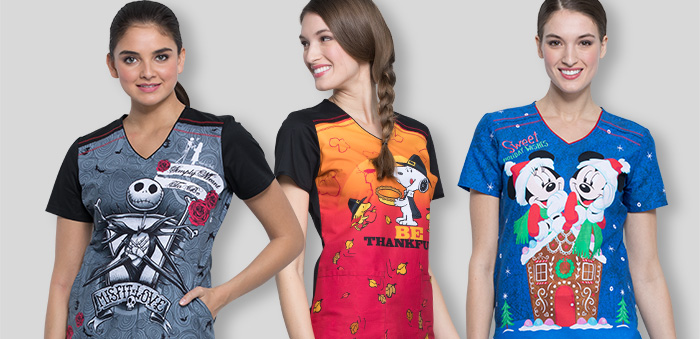 Childhood Favorites
While many Tooniforms prints are based on contemporary movies and TV shows, some of them throw it back to childhood classics such as the Mickey Mouse Gang, Sesame Street, Peanuts, Looney Tunes, Dr. Seuss, Hello Kitty and the Hundred Acre Wood. If you're nostalgic for the media of your own childhood, these prints are a great way to show off your favorites. Throwback Thursday, anyone?
Holidays
The only thing better than a Tooniforms print is a holiday-themed Tooniforms print. In perhaps the most ambitious crossover event in scrub print history, many Tooniforms characters have been given the holiday treatment for special days such as Christmas, Halloween and Valentine's Day. Some Tooniforms tops also feature characters from holiday-specific movies, like Frosty the Snowman or Rudolph the Red-Nosed Reindeer.
Pixar
While Pixar is now owned by Disney, the animation studio's properties retain their own look and feel, so it merits its own Tooniforms category. In its almost 25 years of releasing feature films, Pixar has created some impressive properties, and you can now rep their characters at work as you transport your scrub tops to the underwater world of Finding Nemo or The Incredibles' home in Metroville.
Cherokee turns over its Tooniforms lines quite regularly, meaning that there are always new designs to choose from—and that existing lines sell out quickly. If you see a design you really want, it's a good idea to snap it up while you've got a chance, so browse our collections today.