Stand Out with These 6 Unique Scrubs
We love a basic scrub set as much as the next nurse, but we do admit they can be a little…traditional. If you're looking to stand out with some unique scrubs, it can be hard to sift through all the options to find scrub collections that are truly different. We've done the legwork for you and selected six of our favorite unique scrub collections that stand out from the rest of the pack: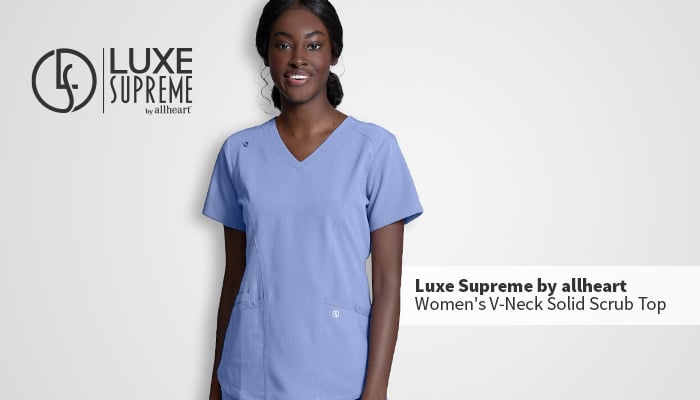 Take your essentials to new levels with our years-in-the-making Luxe Supreme collection. The scrubs are available in women's, men's and unisex cuts in sizes up to 3XL. These scrubs are made from a resilient, memory-stretch fabric that offers a silky, flawless feel, thanks to its 74 percent polyester, 22 percent rayon and four percent spandex blend. They come in six versatile uniform colors, including wine red and ciel blue, that look professional yet attractive. These scrubs feature classy design touches including notched rounded necklines, reinforced seaming details, patch pockets, knitted yoga waistbands, jogger scrub pants and more. Meet your new favorite scrub collection from allheart!
Make a STATEMENT with this sporty collection from Cherokee. The shiny hardware and rose gold zippers set these unique scrubs apart from all of the other ones in your closet. The junior contoured fit and fun color gives these scrubs a modern edge. They are made from a 76 percent polyester, 19 percent rayon and five percent spandex tightly-knit stretch ribbed fabric that has moisture-wicking properties. Princess seaming provides a fitted, athletic look, while patch and zippered pockets give you plenty of storage. If you want to upgrade your scrubs while sticking with a tried and true brand, definitely check this collection out.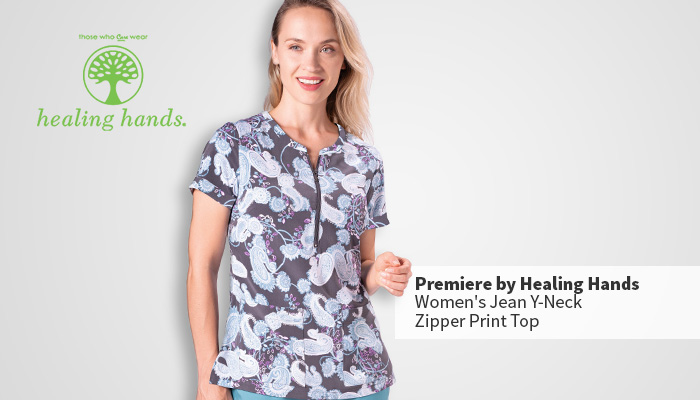 Jazz up your scrubs with an entire collection of printed scrubs from Healing Hands. Whether you'd prefer origami floral or an abstract medieval-inspired print, Healing Hands has got the perfect scrub top for you. These print tops all coordinate with solid color scrub pants from Healing Hands' other lines, so your scrub outfit will go together no matter what. Make sure to shop the matching item suggestions to get the right shades! The scrub tops are made from a lightweight performance stretch fabric consisting of 96 percent polyester and four percent spandex to provide stretch.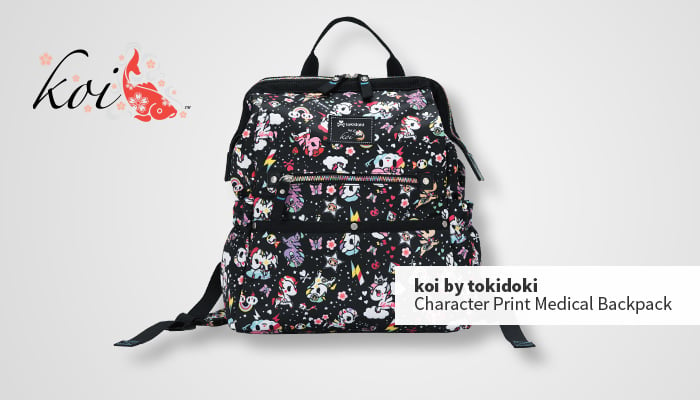 Due to the ongoing coronavirus pandemic, disease protection is more important than ever, and just about every nurse must now wear a face mask, headband and/or scrub cap to work for sanitary reasons. If you want your accessories to match your scrubs, then you should absolutely browse koi's accessories collection, which are all made of fabrics that match their various scrub collections so you can match from head to toe. We also have to give a shoutout to koi's Betsey Johnson collaboration, which features exclusive prints from the iconic designer. Talk about some unique scrubs that you can't find anywhere else!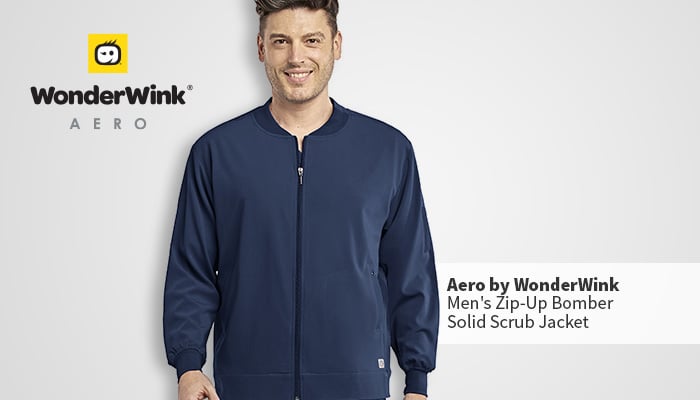 Aero by WonderWink
Wonderwink's new Aero collection features sporty designs and a junior contour fit for those who prefer more athletic scrubs. The stretch poplin fabric is made of 78 percent polyester, 20 percent rayon and two percent spandex, so it moves with you throughout the day. The scrubs are available in sizes up to 5XL and the pants come in regular, petite and tall so you can be sure that you're getting the ideal fit. Features such as shoulder yokes, V necklines, back stretch panels, ribbed waistbands and more help set these scrubs apart without weighing them down with hardware. These scrubs are perfect for nurses who are always on the go.
We couldn't finish off this list without including something from Grey's Anatomy. If you love this brand but want to update your look, then check out their premium Spandex Stretch line. As the name suggests, these scrubs are made out of a stretch twill fabric blend that's 74 percent polyester, 23 percent rayon and three percent spandex. The collection comes in a range of colors and also some really fun print tops so you can mix and match to create individual looks. It's hard not to love Grey's Anatomy scrubs, but this collection is definitely something special (and extra stretchy).
Liven up your workwear with these six unique scrub collections. You'll be sure to stand out—in a good way—with any of these brands. You deserve to have scrubs that express your personality just like the rest of your wardrobe! Don't forget that allheart lets you exchange an item for a different size and/or color for free, so you'll always be happy with your purchase.