What Is Nursing Informatics? Everything You Need to Know
Modern developments in medicine and technology have helped the field of nursing to evolve at a rapid rate. Every year, new roles emerge for the experienced registered nurse (RN), including those that depend on healthcare data to improve patient care. If you have been researching different types of nurses in order to begin or advance your career, you may be interested in learning more about the exciting area of nursing informatics.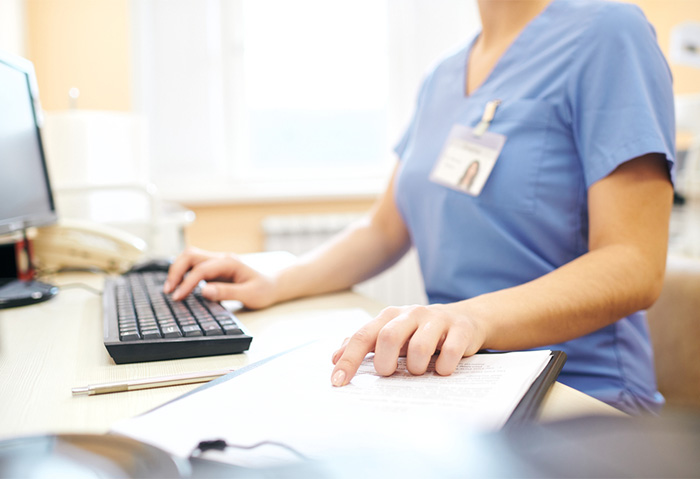 For those who are wondering what nursing informatics is and why new nurses are being hired in this sector, we can help. This guide breaks down the job, what is expected of an RN in this role and what it takes to be successful. You will also learn more about the important details, like salary, job titles and the tools that make it easier to be a nursing informatics professional.
What Is the Definition of Nursing Informatics?
Also referred to as health informatics, nursing informatics is a field of study that uses information science, computer science and communications to help optimize information and communication in the field of nursing. This definition may sound broad, but the main goals of a nurse in this role are to increase a clinic or hospital's efficiency. They also work to improve the facility's excellence in patient care.
Today's nursing informatics professionals interpret various forms of data to help organizations cut unnecessary costs. They also help companies and hospitals to find out where they should invest their time and efforts so they can enhance satisfaction and encourage quality care. The role requires experience in the nursing field, as well as a mastery of technology and data integration. An advanced degree is also necessary to be competitive in this growing area of nursing.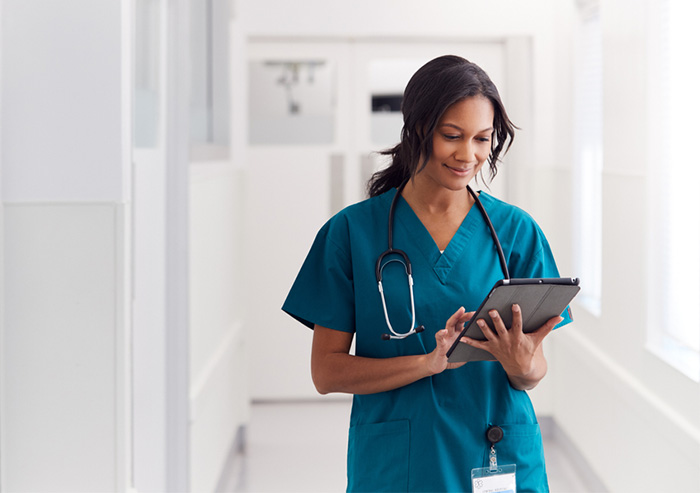 What Do Nursing Informatics Professionals Do?
Nurses with a career in nursing informatics will focus much of their day on the critical task of analyzing data to help improve outcomes in patient care. They also participate in researching and testing new technology for the organization. Once complete, they may be asked to train the nursing staff on how to use the new programs successfully.
Other responsibilities of the nurse in informatics include tracking the results of new software programs related to patient care and serving as the intermediary between the nursing department and a clinic or hospital's technology department. Some nurses will be charged with managing new technology projects for an entire facility. They may also be viewed as the lead technology officer for a residential center, government office or an outpatient clinic.
What Type of Education Do These Nurses Have?
Nurse informaticists will need at least a bachelor's degree in nursing to fill a role in this field. A Bachelor of Science in Nursing (BSN) is the most popular degree among those who are currently employed in nursing informatics, although some nurses also have a BS in an area of study such as health information technology.
Many of those in this field have master's degrees or even doctorate degrees. Certifications in healthcare informatics or healthcare technology can also make you competitive with other nurse applicants. A recent survey of nurse informaticists revealed that over half of them have a postgraduate degree, while about 25 percent of them have a master's degree or PhD in nursing. Many of these nurses also planned to continue their education while working in the role, such as through additional certifications or technology training.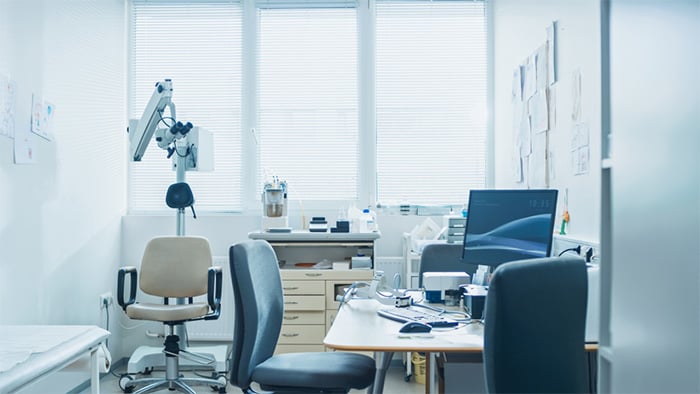 Where Do Nursing Informatics Professionals Work?
Nursing informaticists work in hospitals and healthcare facilities of all sizes. They are also employed outside of clinical environments, such as at consulting firms, corporations and institutions of higher education. They may work privately or for the government.
If you are searching for a role in nursing informatics, you may see job titles such as "clinical analyst" or "informatics coordinator." Some may also be referred to as an "informatics specialist." Select nurses will have the experience and skill set to apply for a career as a Chief Nursing Informatics Officer or a Director of Nursing Informatics.
What Salary and Benefits Can I Expect?
Nursing informatics requires experience and an advanced education, but those who work in the role enjoy a competitive salary. In fact, the average salary for a nurse informaticist in the United States is over $102,000 per year, or about $49 per hour. For the most specific information for your area, search nursing informaticist roles and salary expectations in your zip code.
In addition to excellent salaried wages, many professionals also receive benefits such as healthcare, paid holidays and paid vacation. You may even have the chance to save for retirement through a 401(k) plan. Review each job opening in detail to determine if the company is competitive with comparable employers in terms of its benefits.
What Is It Like to Be a Nurse in Informatics?
Being a nurse informaticist means you are filling a critical role in the field of healthcare. Without your knowledge and skill set, most hospitals, clinics and patient-centered organizations are not able to leverage healthcare data to their benefit. A combination of your nursing experience and your mastery of technology allows you to view patient care from the lens of a clinician and a data scientist. This is a unique career choice that will be in demand for many years, which means you can be confident that you are making a difference while providing yourself with a secure future.
To be successful in this role, you should have an analytical mind and an avid interest in technology. You should also have robust technical skills, a knack for problem-solving and an understanding of economics and finances in healthcare. The most successful professionals are comfortable with project management. Some of the most important "soft skills" for a job as a nurse in informatics include strong interpersonal skills and the ability to lead others.
While data and computer science are some of the foundations of this role, professionals should not forget that they also need to understand what it is like to work in a clinical setting. An innate knowledge of what it is like to be a nurse and to serve patients helps nurse informaticists to make the best decisions on technology and software based on the experience of both the client and the clinician.
What Should You Wear in Nursing Informatics?
Nursing informatics professionals work in a variety of environments, so the daily attire that you wear may be different than others, depending on the facility you work in. Some informaticists will wear scrubs on the job, just as they did when they were working on the hospital floor. Thankfully, as a data specialist, you can take your uniform to the next level with elegant and polished scrub styles and brands.
Some of the most ideal scrub tops and pants for nurses in this field include those made by koi Next Gen. While koi is already well-known for their high-quality and trendy nursing uniforms, the launch of koi Next Gen offers a specialized collection of scrubs designed for the perfect combination of comfort, durability and fashion. Choose from fresh and modern jogger pants and contoured scrub tops in a variety of colors, along with fun shades like rose, wine and heather. Other favorites for the nurse informaticist in this collection include printed scrub tops with attractive and sophisticated designs and fitted lab coats that elevate your look and make you feel more put together and professional in both clinical environments and nursing school.
When searching for scrubs, nursing informatics professionals and students should also check out Luxe Supreme by allheart. Whether you are searching for smart and stylish scrub pants, tops or sets, you are sure to find a polished essential with soft, stretchy fabric that will make you look and feel great all day long.Whether you are interested in cute colors, contoured details or scrubs that look more like fashionable clothing, we have the looks for you.
In addition to our koi Next Gen lab coats, students and professionals will be pleased to know that we also carry fashionable styles from Medelita, Meta Labwear and Landau. Each of these brands prides itself on designing stylish and functional garments for healthcare professionals who work in laboratories, data centers and clinical environments.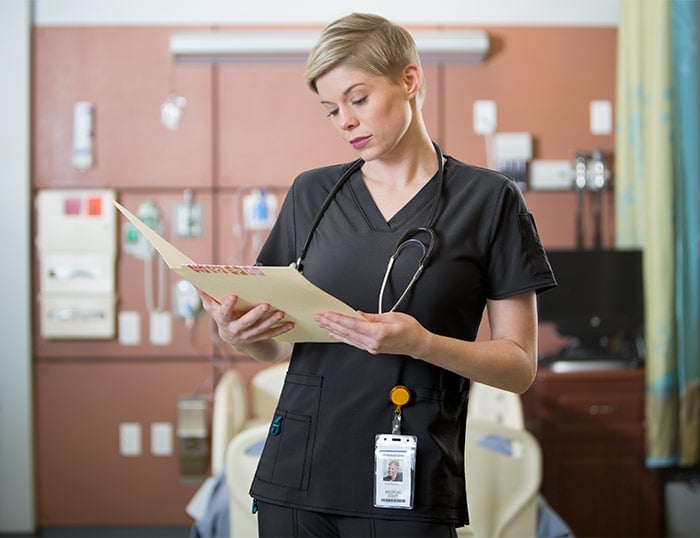 What Else Does a Nursing Informaticist Need?
Now that you have a sharp and fashionable uniform for the job or the classroom, you may need a few additional accessories. Thankfully, allheart carries everything you need to be successful at your nursing career. We have stylish and trendy lanyards and badge holders that will help to identify you while starting conversations on the hospital floor. Choose from designs with adorable animals, interesting prints or a whole lot of bling.
Move effortlessly from different departments or projects with one of our medical bags and totes. We have a collection of bags featuring vibrant solid colors to match your scrubs, as well as glitter designs, traveler's bags with plenty of storage and belt bags that allow you to grab all of your devices without taking your bag off. Whether you like classic styles, tie-dye prints or special totes that celebrate the nursing profession, there is something for everyone.
Before you complete your uniform, do not forget your nursing shoes. We have a variety of styles to match any type of look—from athletic to elegant. Many of our slip-resistant shoes look like sporty sneakers, but we also have ones that look like fashionable booties or chic clogs
Starting Your Career in Nursing Informatics
A career in nursing informatics offers many benefits. Employees are consistently challenged as they work to actively improve their organization and the way that nurses and other healthcare professionals care for their patients. In addition to earning a unique skill set and valuable education, you will also earn a good salary. Nursing informaticists can be proud of how their knowledge and experience benefits their hospital or facility. Whether you are a nursing student, a healthcare professional who is looking to advance their career or an informatics expert who is enjoying what they do each day, a career as a nursing informatics specialist is sure to be exciting, dynamic and valuable to your organization.