4 of the Best Scrubs for Veterinarians
Veterinarians are hard on their scrubs, and finding affordable scrubs that can hold up to a full day of treating animals can be tough. Below, we've identified six key factors that you need to keep in mind when shopping for scrubs for veterinarians. Then, we've highlighted some of our best-selling veterinary scrubs to help narrow down your shopping.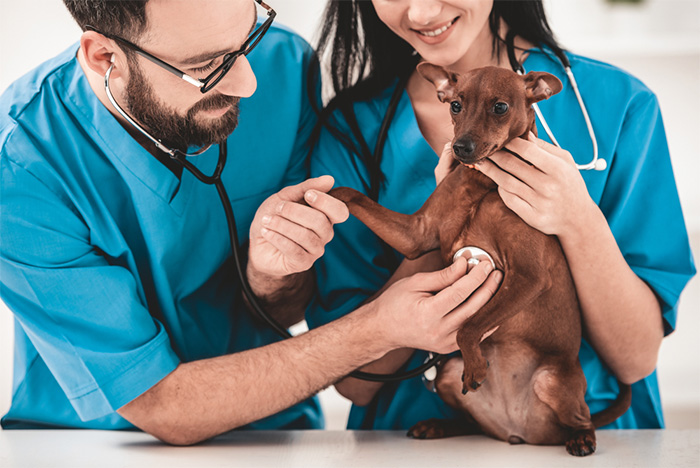 What to Look for in Veterinary Scrubs
Shopping for scrubs for veterinarians is both a science and an art. Here's what you should look for as you shop for veterinary scrubs:
Fabric blend: The fibers used in the fabric, and what percentages they are, will affect many of the fabric's properties, including how much it stretches and what it feels like. Check out our ultimate guide to scrub fabric if you want to know the details of picking a fabric blend.
Fabric treatment: Fabric treatments can also affect the material's properties, including whether or not it helps repel water, bacteria, stains and more. Fabric treatments can increase the performance or longevity of the scrubs, so it's important to read up on them before you buy.
Fit: Some people prefer more tailored scrubs, while others like a looser fit. For women, a junior fit will be the most tailored, followed by a missy fit. A unisex fit will be the loosest for both sexes. Men who want something a little more fitted should seek out men's scrubs.
Size range: If you need extended sizes, or petite or tall sizing, that will narrow down your options. Not every size is available from each collection, so use that to guide your search as you look for scrubs for veterinarians.
Features: Pockets are a must-have for scrubs, but the features don't stop there. You might also want a badge loop, side vents for breathability or an adjustable drawstring waist on your pants. Features help distinguish one scrub collection from another and can be used to further narrow down your selection.
Colors: Your practice might dictate a particular color that you must wear to work, or you might be able to select from a range of hues and prints. If you have a particular color in mind, it might only be available from certain brands.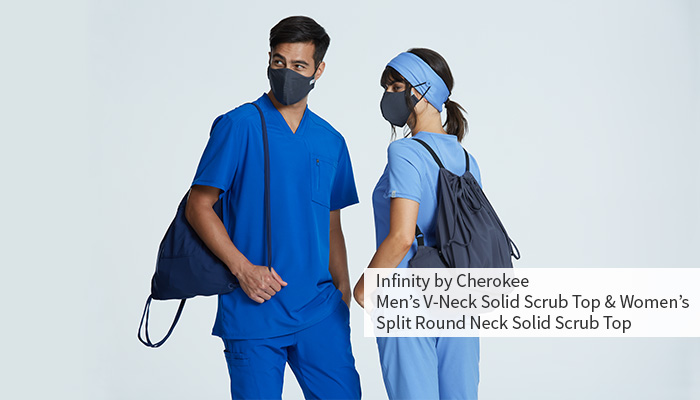 The Best Scrubs for Veterinarians
Finding scrubs for veterinarians that fulfill all these factors can be a tall order. Not to mention, all collections offered at allheart are made to help hair from sticking to your scrubs, being that most are cotton-free. To help speed up your shopping, we've highlighted some of our favorite veterinary scrub collections below:
Cherokee Workwear Originals
This affordable yet durable collection is one of our best sellers for a reason. The fabric is a blend of 65 percent cotton and 35 percent polyester and features soil release technology. It's available in both a women's missy relaxed fit and a looser unisex style for those who like more room to move. The scrubs feature plenty of pockets for extra storage.
Skechers by Barco Uniforms
Skechers doesn't only make shoes—they also make youthful scrubs that are just as comfortable as their footwear. These scrubs feature a junior fit for a more contoured, contemporary look. The scrubs are available in plenty of trendy colors like cherry pie and new turquoise so you'll still look fashionable on the clock.
Four Stretch by WonderWink
Made of durable four-way stretch polyester fabric, these scrubs move with you throughout a long day at the clinic. The scrubs come in a junior contoured fit for a style that's flattering and versatile. These scrubs are loaded with features, such as shaping panels at the waist and sides, an angled yoke at the shoulders, a stylized back yoke, a tagless neck with a locker loop and reinforced pockets.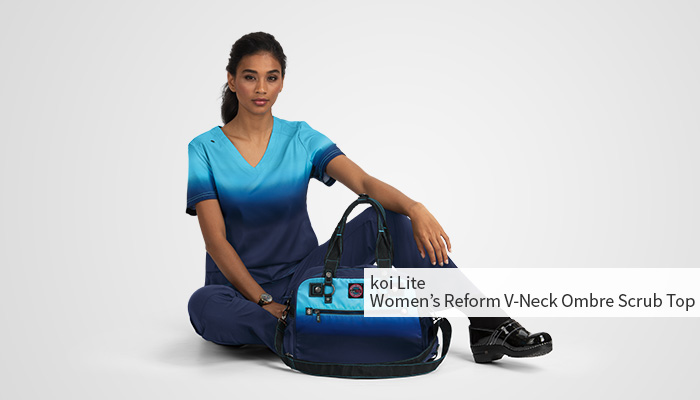 koi Lite
koi has been making "scrubs that people love to wear" since 2006, and it shows in their Lite collection. These junior fit scrubs are made of 100 percent polyester stretch dobby that doesn't chafe or pull. The scrubs are available in sizes from XXS to 5XL and come in lots of colors as well as a tasteful ombre dye that's sure to set you apart from the crowd.
Just like shopping for any other scrubs, finding the perfect set of veterinary scrubs can be a journey. Keep these criteria in mind as you shop, and you'll soon find scrubs for veterinarians that suit all your needs. If you're contemplating a career in veterinary services, but aren't sure if it's right for you yet, learn more about the difference between a vet tech and a vet assistant and how you can start either of these careers.