What to Wear Under Scrubs: The Ultimate Guide
You've finally made a decision on what scrubs to buy—but you're not done yet. Now it's time to choose whether or not to wear something under your medical scrubs and, if so, to select your garments. Not all medical professionals can wear something underneath their scrubs. For example, some operating room teams are only allowed to wear scrubs, with no extra layers under or over them. (This creates an appearance of professionalism and helps reduce the chance of potential contamination.)
However, other departments that don't have to be as vigilant about pathogens do allow staff to wear additional layers under or over their scrub uniform. Learn how to wear scrubs correctly, depending on the healthcare setting you're working in, and feel good about your nursing uniform.
Scrub T-Shirt
The most common layer to wear underneath scrubs is a scrub undershirt, either short-sleeved or long-sleeved, in neutral colors. While long-sleeved t-shirts may help keep you warm in a colder healthcare facility, do be aware that they have a greater likelihood of getting stained and carrying germs around.
When choosing a t-shirt to wear under your scrubs, look for high-quality, breathable fabric that won't trap heat, since you'll be wearing two layers. Also look for moisture-wicking properties. Since the shirt will sit right next to your skin, you want it to absorb sweat instead of leaving it to sit on your skin until it evaporates. A cotton-polyester blend will usually wick moisture away and dry fast. Check the fabric blend before you buy. We recommend buying clothes that factor in these considerations instead of wearing regular clothing.
The color of the shirt is also important. If you're wearing light-colored scrubs, then you'll want to wear a light-colored t-shirt as well so it doesn't show through the scrub fabric. Neutrals such as white/cream and light grey are an excellent choice for scrub t-shirts, as they won't show through any scrubs and go with a wide variety of colors.
Look for a snug fitting t-shirt. A lot of excess fabric will look unflattering beneath scrubs, make you hot and sweaty and impede your ability to move. Even though the scrub t-shirt should hug your body, the fabric should provide enough flexibility and stretch to move with you so it doesn't inhibit movement at all. Shop our extensive collection of quality scrubs for women and men's scrubs to find the perfect set.
Underwear
Scrub t-shirts aren't the only clothing item you'll wear under scrubs. You also have to wear, well, underwear. If you're trying to avoid panty lines, choose a slightly looser cut of scrubs that doesn't pull so tightly over your butt. You can also look into boy brief cut underwear. These panty lines hit lower down on your thighs rather than across your cheeks, making the lines less likely to show. Try to avoid white scrubs if you can, but if your department must wear them, opt for underwear that's as close to flesh-colored as possible to keep your underwear from showing through.
Bras also deserve careful consideration, and there's no one right answer. Some people prefer wireless bras for comfort, while others swear by underwire t-shirt bras for everyday support. Still others turn to sports bras, not only for their sweat-wicking properties but also for the additional support they provide (very helpful if you have to move around a lot on your nursing shift). No matter what type of bra you choose, neutral colors and minimal embellishments will help keep them from showing through your scrub top. You can also size up on the scrub top if it pulls tightly against the bra and makes it show.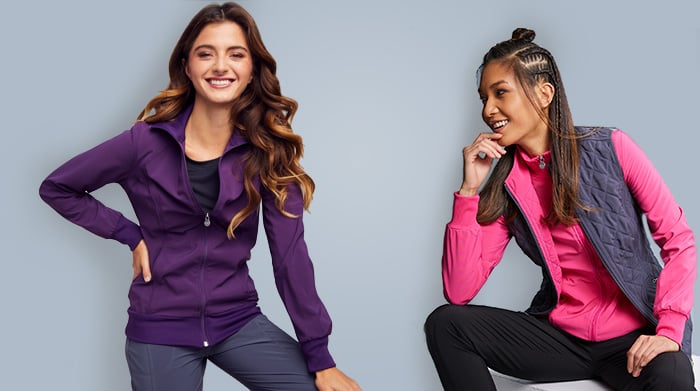 Jackets and Lab Coats
If the t-shirt doesn't provide enough warmth for you, considergetting a scrub jacket or lab coat to help regulate your body temperature. These layers are specifically designed to go over scrubs and can be taken off if you get overheated (unlike a long-sleeved scrub t-shirt). They come in many flattering colors and designs that match a wide variety of scrubs, and they can be customized with embroidery.
Choosing what to wear under scrubs isn't complicated, but it does take some thought to ensure that you can stay cool (or warm) while still preserving your professional appearance. Follow these tips to layer your scrubs like a pro and stay comfortable during your long nursing shifts.